China larang film Winnie the Pooh karena dianggap ejekan mirip Xi Jinping
BolaRakyat – Lembaga sensor China melarang penayangan film berjudul Christopher Robin di seantero Negeri Tirai Bambu. Ini merupakan film baru yang diadaptasi dari kisah petualangan karakter Winnie the Pooh. Demikian diberitakan Hollywood Reporter.
"Winnie Si Beruang" menjadi bulan-bulanan orang-orang di seluruh China untuk mengejek presiden mereka, Xi Jinping, tetapi tampaknya pemerintah tidak menganggap hal tersebut sebagai sebuah lelucon. Merasa tersinggung, otoritas pun kembali melarang segala sesuatu tentang beruang lucu berwarna kuning itu beredar di dalam negeri.
Pemblokiran karakter "Winnie The Pooh" berawal ketika Xi Jinping mengunjungi Amerika Serikat pada 2013. Saat itu, Barack Obama masih menjabat sebagai Orang Nomor Satu Negeri Paman Sam. Dalam sebuah foto yang beredar di media sosial, tampak kedua pemimpin berjalan berdampingan.
Warganet yang mengetahui langsung menciptakan beragam meme kocak terkait pertemuan keduanya. Mereka kemudian membandingkan Winnie dengan sahabatnya yang seekor harimau, Tiger. Dalam gambar tersebut menampilkan Xi dianggap sebagai Winnie –dengan postur tubuh gendut dan agak pendek– sementara Obama sebagai Tiger –dengan postur tubuh lebih tinggi dari Xi.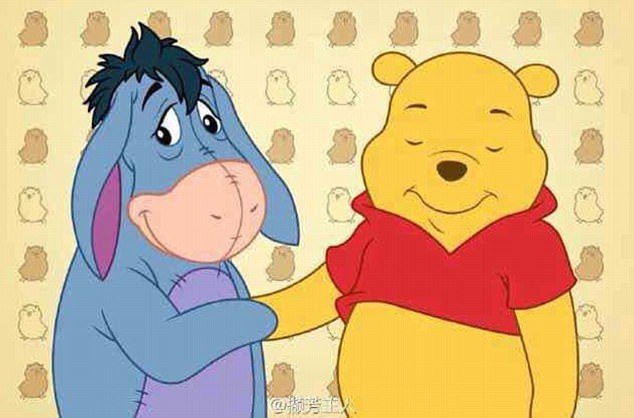 Tak hanya dengan Obama, ketika Xi berjumpa dengan Perdana Menteri Jepang pada 2014, Shinzo Abe, meme mereka pun kembali beredar. Kali ini bukan dengan Winnie dan Tiger, melainkan Winnie yang tengah bersalaman dengan Si Keledai yang pesimis, Eeyore.
Ketika meme tersebut terus menyebar secara online, lembaga sensor China mulai menghapus seluruh gambar yang mengejek Xi Jinping. Situs web distributor film AS, HBO, juga ikut terkena imbasnya. Stasiun televisi yang bermarkas di New York ini diblokir pada bulan lalu, setelah komedian John Oliver berulang kali mengolok-olok Xi Jinping yang menyamakannya dengan Winnie The Pooh.
Selain itu, penyebab lain karena segmen yang dibawakan Oliver juga menyindir tentang catatan hak asasi manusia yang suram di China.
Satir yang lebih parah adalah ketika Xi Jinping menghadiri parade militer pada 2015, menurut Global Risk Insights. Perusahaan ini mengatakan, pemerintah China menganggap meme itu sebagai "upaya untuk merusak martabat kantor kepresidenan dan Xi Jinping sendiri".
"Rezim otoriter sering disinggung, padahal pemerintah secara efektif terus mengkampanyekan citra publik yang positif untuk Xi Jinping," menurut sebuah laporan, seperti dikutip dari The Guardian, Selasa (7/8/2018).
"Reaksi rakyat sangat tak masuk akal, mengingat bahwa Xi Jinping telah melakukan upaya substansial untuk menciptakan kultus kepribadian yang menunjukkannya sebagai penguasa baik hati."
Alasan lain penolakan film Christopher Robin adalah China hanya mengizinkan 34 film asing rilis di bioskop setiap tahun. China mengklaim, pemerintah hanya membolehkan film Hollywood terlaris dan film keluarga saja.
Christopher Robin adalah film Disney kedua yang ditolak dirilis di China pada tahun ini, setelah A Wrinkle in Time diblokir. Film ini menceritakan tentang seorang anak kecil dari cerita Winnie the Pooh, saat ia telah tumbuh dewasa dan kehilangan semua imajinasinya tentang sekelompok boneka binatang yang ada di Hundred Acre Wood.
Pooh, Eeyore, Tigger, Owl, Piglet dan Roo serta para temannya kembali pada kehidupan Christopher (yang diperankan oleh Ewan McGregor) dan membantunya untuk menemukan mimpi serta imajinasinya kembali. Film garapan sutradara Marc Forster ini akan tayang perdana di bioskop pada Agustus 2018.
Pemerintahan Presiden China, Xi Jinping, telah menghapus sejumlah frasa pada sistem pencarian aplikasi pengiriman pesan lokal.
Belum diketahui alasan pasti permintaan Pemimpin Partai Komunis itu, namun sejumlah pihak berpendapat penghilangan beberapa kata dan klausa dimaksudkan untuk menjaga nama baik dan kewenangan Xi Jinping, sebagai Orang Nomor Satu di China.
Langkah kontroversial tersebut menyulut protes keras dari pengguna media sosial. Warganet mengatakan, sensor yang dilakukan pemerintah merupakan upaya untuk menyetir dunia maya di Negeri Tirai Bambu.
Contohnya saja, beberapa istilah tiba-tiba hilang dari Sina Weibo sejak hari Minggu, seperti dilansir BBC, Senin 26 Februari 2018. Sina Weibo adalah situs microblogging buatan China yang mirip dengan Twitter dan Facebook. Situs ini merupakan yang terpopuler di Tiongkok.
Menurut laporan China Digital Times dan Free Weibo, frasa yang disensor meliputi: Saya tidak setuju (I don't agree), migrasi (migration), emigrasi (emigration), pemilihan kembali (re-election), istilah pemilihan (election term), amandemen konstitusi (constitution amendment), peraturan konstitusi (constitution rules), memproklamirkan dirinya sebagai kaisar (proclaiming oneself an emperor) dan Winnie the Pooh.
China mempekerjakan jutaan orang untuk memantau, menyensor, dan mengawasi segala macam aktivitas yang dianggap tak sejalan dengan pemerintah di internet.
Bahkan unggahan yang menggunakan kata "emigration" telah disensor, setelah pemerintah mengungkap telah terjadi lonjakan pengguna web yang mencari kata tersebut di mesin pencari Baidu.
Jika Anda mencari frasa "Winnie the Pooh" di Sina Weibo, situs tersebut menampilkan sebuah pesan yang mengatakan: "Menurut undang-undang, peraturan dan kebijakan yang relevan … hasil pencarian tidak dapat ditampilkan".
Media sosial China selama dua hari terakhir dipenuhi oleh "cuap-cuap" soal keinginan Partai Komunis mengamandemen konstitusi, untuk menghapus larangan berkuasa dua periode berturut-turut bagi presiden dan wakil presiden.
Tak lama setelah kabar ini muncul, Presiden Xi Jinping menjadi sasaran warganet. Alasannya sederhana, Xi Jinping adalah kader Partai Komunis dan ia berpotensi kembali diusung oleh partai tersebut, bila konstitusi yang berlaku saat ini berhasil diubah.
Tak lama setelah kata Winnie the Pooh viral di dunia maya, Sina Weibo langsung menyensor kata-kata tersebut. Penyensoran itu disebut sebagai bagian dari kebijakan hukum yang relevan.
Dilansir dari Asian Correspondent, kata lain yang juga dicekal oleh Weibo ialah "Yuan Shikai".
Yuan Shikai adalah nama kaisar China pada abad ke-19, yang menjabat sebagai presiden pertama China sekaligus menciptakan dinasti kekaisaran.
"Tadi malam aku bermimpi kami kembali ke republik ini dan Yuan Shikai mendeklarasikan dirinya sebagai kaisar," tulis salah satu pengguna Sina Weibo, Zhang Chaoyang, kala itu.
Dari berbagai respons yang ditumpahkan netizen di media sosial, ada satu hal yang menarik. Xi Jinping disamakan dengan tokoh kartun terkenal, Winnie the Pooh. Dengan slogan khas "Temukan hal yang Anda sukai dan tetap berpegang padanya – Winnie the Pooh-", Xi Jinping dinilai sebagai sosok rakus.