Pastore: Mustahil Neymar Pindah Tahun Ini
The master-builder of human happiness. No one rejects, dislikes, or avoids pleasure itself, because it is pleasure pursues or desires to obtain.
 Belakangan ini, beberapa rumor menyebutkan bahwa Neymar akan meninggalkan PSG untuk bergabung dengan klub raksasa Spanyol, Real Madrid. Tetapi mantan rekan setimnya, Javier Pastore, tidak meyakini kebenaran kabar tersebut.
Neymar cukup sering dihubungkan dengan Real Madrid dalam beberapa bulan terakhir, dan kegagalan PSG di Liga Champions diyakini sebagai penyebabnya. Padahal, pemain asal Brasil itu baru berlabuh di Paris pada musim panas tahun lalu.
Kabar kepindahannya kembali hangat setelah Los Merengues ditinggalkan salah satu bintangnya, Cristiano Ronaldo, yang memilih bergabung dengan Juventus. Publik menganggap Neymar sebagai sosok yang tepat untuk menggantikannya. 
Pastore Tidak Yakin
Javier Pastore © AFP
Pastore, yang baru-baru ini pindah ke AS Roma, tidak meyakini kebenaran rumor bekas rekan setimnya itu. Menurutnya, PSG tidak akan membiarkannya pergi karena telah menghabiskan uang banyak demi mendatangkannya dari Barcelona.
"Mustahil Neymar meninggalkan PSG pada musim panas ini," ujar Pastore usai membawa Roma menang atas Barcelona di International Champions Cup, dikutip dari Sportskeeda.
"PSG telah membuat investasi yang sangat besar kepadanya. Mereka sangat bergantung pada Neymar. Dan tahun lalu, dia mengalami ketidakberuntungan karena cedera pada babak penting klub musim lalu," lanjutnya.
Berharap yang Baik untuk Neymar
Neymar © AP
Lebih lanjut, Pastore meyakini bahwa Neymar akan kembali menunjukkan sinarnya bersama PSG musim depan. Ia pun berharap pria berumur 26 tahun tersebut bisa membantu bekas klubnya meraih kejayaan.
"Tahun ini akan menjadi kesempatan yang baik bagi dia untuk menunjukkan semuanya," tambah Pastore.
"Jika tuhan mengizinkan, saya berharap dia bisa memenangkan banyak hal-hal penting untuk PSG," pungkasnya.
Neymar sempat mengalami cedera pada bulan Februari lalu, tepatnya saat PSG menghadapi Marseille di Ligue 1. Berkat itu, ia tidak bisa berkontribusi saat bertemu Real Madrid di Liga Champions dan mengakibatkan tersingkirnya Les Parisiens.
Saksikan Juga Video Ini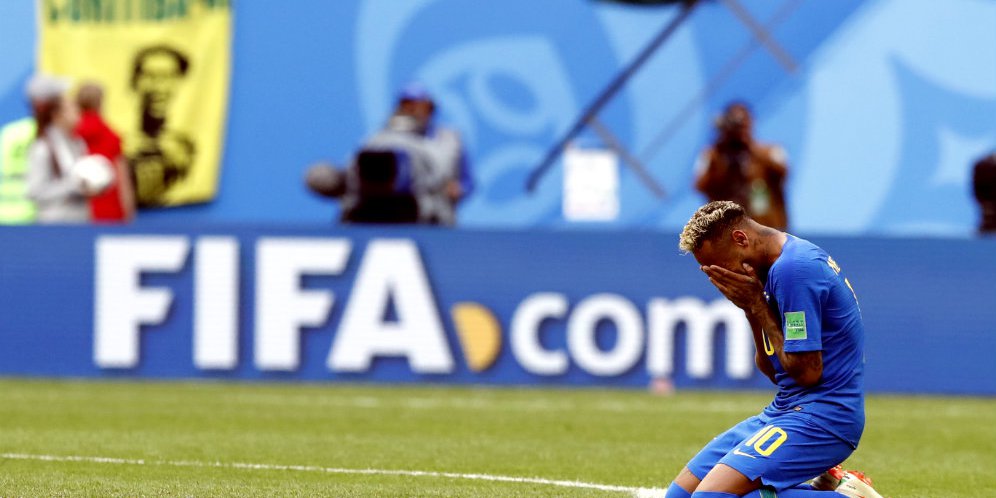 Neymar menangis usai laga vs Kosta Rika. © AP