Bagus Kahfi Dua Gol, Timnas U-16 Kalahkan Myanmar
Which will release a new card reader designed to allow small businesses to take Apple Pay payments as well as credit card chip payments.
Timnas Indonesia U-16 meraih kemenangan kedua di penyisihan Grup A Piala AFF U-16 tahun 2018. Berjumpa Myanmar U-16 di Stadion Gelora Delta, Selasa (31/7) malam WIB, Indonesia menang dengan skor 2-1.
Tampil sebagai pahlawan bagi Indonesia adalah Amirudin Bagus Kahfi yang memborong dua gol. Sementara, gol balasan Myanmar terjadi lewat titik putih dari eksekusi Zaw Win Thein.
Jalannya Pertandingan
Sama seperti saat melawan Filipina di laga perdana, Indonesia juga mampu unggul cepat. Laga baru berjalan delapan menit, Garuda Asia mampu unggul lewat gol indah Bagus Kafhi usai menerima umpan Rendy Juliansyah.
Myanmar memberi perlawanan sengit setelah kebobolan. Tapi, beberapa peluang masih bisa digagalkan penjaga gawang Ernando Sutaryadi.
Pada menit ke-18, Myanmar mendapat peluang emas. Nyan Lin Htet berada di depan gawang setelah mendapat umpan dari La Min Htwe, tapi sepakannya masih belum mampu mematahkan pertahanan Ernando.
Peluang kembali didapat Myanmar pada menit ke-24. Tendangan pemain Myanmar menerpa mistar gawang dan situasi pun menjadi serangan balik untuk Indonesia. Bagus Kahfi dengan cerdik mengkonversi jadi gol kedua Indonesia.
Bagus mampu mengontrol bola dengan apik dan memenangkan adu lari dengan pemain belakang Myanmar. Bagus dengan tenang lantas menceploskan bola ke gawang. Indonesia unggul 2-0 dan bertahan hingga babak pertama usai. 
Babak Kedua
Timnas Indonesia u-16. © PSSI
Myanmar terus mencecar pertahanan Indonesia di babak kedua. Tapi, duet Komang Teguh dan Fadilah Nur Rahman masih cukup tangguh. Kedua pemain tampi tenang di di posisi bek tengah. Ernando pun tampil sigap di pertahanan.
Namun, sebuah insiden melibatkan Ernando pada menit ke-72. Ernando yang sedang menguasai bola mendapat gangguan dari pemain Myanmar dan terpancing emosinya. Ernando melakukan gerakan yang membuat pemain Myanmar terjatuh.
Wasit menilai Ernando melakukan pelanggaran dan memberinya kartu kuning. Myanmar pun mendapatkan hadiah penalti. Zaw Win Thein mengkonversi peluang jadi gol. Kedudukan pun jadi 2-1, masih untuk keunggulan Indonesia.
Pada babak kedua, permainan Indonesia nampak menurun. Beberapa pemain yang dimasukkan oleh Fachri Husaini tak banyak membuat perubahan. Tapi, David Maulana dan kawan-kawan mempertahankan kemenangan 2-1 hingga laga usai.
Susunan Pemain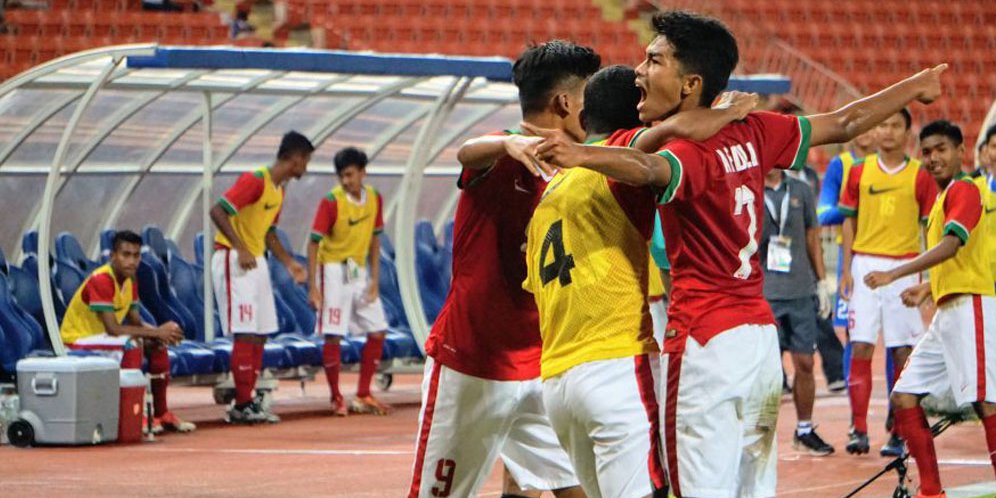 Timnas Indonesia U-16 © PSSI
Indonesia U-16 (4-3-3): Ernando Ari Sutaryadi [GK]; Amirudin Bagas Kaffa, Komang Teguh, Fadilah Nur Rahman, Mochamad Yudha; Rendy Juliansyah, Brylian Negietha, David Maulana; Fajar Fathur, Amirudin Bagus Kahfi, Mochammad Supriadi.
Myanmar U-16 (4-2-3-1): Nay Lin Htet [GK]; Kaung Khant Kyaw, Shin That Aung, Thaw Zin Htet, Nyan Lin Htet; Aung Ko Oo, Yan Kyaw Soe [C], Zaw Win Thein, Khun Kyaw Zin Hein; Thant Si Thu; La Min Htwe.